Puppies...
We occasionally have puppies or retired adults available to loving pet homes.
​

We generally only breed one or two litters per year. We are very careful in the selection of the dogs we use for breeding. They are usually either finished champions or well on there way to finishing. They have outstanding pedigrees with many generations of successful breeding. They are screened for health problems such as hip dysplasia or inherited eye problems. We do not breed just to sell puppies for profit. Our goal is to produce sound, healthy corgis with good temperaments and structure that conform to the type described in the Pembroke Standard.
All pet puppies are sold on a spay neuter contract with a health guarantee and must be returned to us if at any time the dog can not be kept! They are not to be resold, placed, or put in a shelter! It is very important to us to know where our corgis are living as they will always remain an extended part of our corgi family! We require anyone interested in purchasing one of our puppies to fill out a questionnaire so we can get to know you better and be assured you and your puppy will be happy together.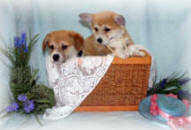 We hope this helps you understand the amount of the care and thought we put into every litter. We do not take deposits on puppies before they are born however, we are willing to put your name on a waiting list and we enjoyed keeping in touch and getting to know you, so we can hopefully find the right puppy for you. If you would like more information on available puppies or if you might be interested in an older retired show dog please contact us by e-mail, oehlhof@springmillcorgis.com or by phone, (419) 565.2546